"Telling a story is like reaching into a granary full of wheat and drawing out a handful. There is always more to tell than can be told. As almost any barber can testify, there is also more than needs to be told, and more than anybody wants to hear."  ~Wendell Berry, from Jayber Crow
Once upon a time, I was upset about being the black sheep in my family. Why had I turned out so differently than everybody else? It would have been much easier to have stayed in South Carolina, raised a family in the church and worked a normal job. And I would have, if that had been my calling. How did one mainstream Christian girl go from a lifestyle of candy corn and Coca-Cola to ashwagandha and ashtanga? Well, I am still trying to figure out that one… 
I interrupt this program to acknowledge that I am continuing to write and share about subjects that are not directly related to the current heinous world events. I am sincerely sorry if this feels insensitive to you, and I trust that you won't read Earth Devotions if it isn't feeding you in a good way. My form of activism is to help reset our nervous systems by bringing it back to our immediate environment and what we may be able to change inside and in front of us. I admire those on the front lines of activism, fighting to end systems of oppression, and hope and pray that we all take a closer look at how we in the free world perpetuate these systems by our lifestyle choices.
Of all the times of the year, this may be our best opportunity to observe family dynamics and to practice an ability to keep an open mind and understand one another. This upcoming week, many of us will be getting together with family members that we may not see any other time of year or share much of a similar lifestyle with, celebrating a holiday that we may (or may not) find hard to swallow. Listen to a Native American share their story of Thanksgiving, which they may call Truthsgiving, if you haven't already. But I am not getting into all that right now because that is not the intention of this post. This here post is to get us reflecting upon where we came from, how it formed us, and to arouse curiosity and understanding of ourselves and our extended family. To find more peace and forgiveness inside of our own hearts and with our family members, because how can we have peace anywhere 'out there' if we can't even have it in here, inside ourselves, inside our families? 
What might you want to share of yourself with someone you are about to see, to make a connection with them? And who might you want to hear from? Ask them to tell you something about themselves that you don't already know. Sharing stories is at the heart of our well-being. Yes, it is true, for every story that we tell, endless stories are left untold. Makes you not even want to try, sometimes. But hey, go for it. Here's a little story to start…
I must have always enjoyed getting intimate with the earth around me. Around age five, my family moved from a small city to a large property in rural South Carolina that still comes to me in my dreams. There was a worn swastika symbol cemented in the middle of the yard, near the pond, and I used to pretend Hitler was buried under it and give myself the creeps. The swastika has been taboo in our world since Nazi Germany's use of it, but it is an old symbol from the East whose origin meant good luck, or well-being. To this day I wonder what that spot was all about. 
I would play in that zone often, studying my frog collection. I so loved frogs, and the way I showed that love was by putting as many frogs or toads as I could find into a shoe box, paint a number on their backs with a streak of nail polish, then let them loose again. I did this because I was trying to take an inventory of how many frogs we had on the property, but I never would find any again with the nail polish on them, even though I must have painted hundreds. Later, I wondered if my branding had killed them. I cannot bear the smell of nail polish as an adult, and their thin membraned, sensitive skin absorbed that toxic paint into their innards, I guess. I am really sorry, frogs. 
But then again, as much as I loved them, I had no problem killing them intentionally went I went gigging with my dad. I didn't feel any kind of bad about it, because I absolutely loved to eat fried frog legs, if I wasn't fishing for bream or bass in the pond. My fat, orange cat, Honkey, would sit right next to me the whole time I fished, and I would give her some of the little sun-bellied bream and watch her chomp them down- bones, scales, eyes and all. She ate it fast, eager for the next one. I would pass hours away in this activity, fishing for the family and the cat.
Once, I threw the line out haphazardly and the hook, instead of going into the water like it normally did, went deep into my ring finger. I screamed for my dad to help me. He was the only person I believed could do the job of getting it out. And he did. I was so proud and relieved.  This memory makes me have appreciation for my father, and a big swelling of love for him, even though there were many times that wasn't the case.
~~~~~~~~~~~~~~~~~~
So what are some of your first impressions? How did you become Who you Are? How is the story you have of yourself and your blood family informing the decisions you make today? I find that our personal experience is the most credible thing we have instead of what somebody else tells us to feel and believe, and that it can be enlightening to reexamine how we remember things, sometimes.
Everybody got a story.
Mary Morgaine Squire
11/18/23
---
Invitations
-Record a story from the oldest member of your family (or the oldest person you know) and share it with the youngest.
-Take a walk and then pause somewhere. Be the narrator of the Earth Story unfolding right under your feet.
-Call up an old friend or a relative, and really drop-in with how they are doing.
---
Earth Devotions is a reader-supported publication. To receive new posts and support my work, consider becoming a free or paid subscriber.
---
~Love Letters to our Plant Allies~
Spicebush
Lindera benzoin
Lauraceae
Dear Spicebush,
I follow the path to the creek or the seepy wood's edge, and you're there. Gray and indiscreet, easy to walk past unless you are fruiting or in flower. But from all these years of meeting up with you, I can spot you from a distance any time of year and am fed by this feeling of "Home." No hands that I know of planted you here, you came before the people. This is your native range, the eastern seaboard of North America, a native spice and medicine, food for wildlife and host plant for both the Spicebush and Eastern Tiger Swallowtail caterpillars. 
Most of the plants I use culinarily and medicinally come from the place of my ancestral origin- Europe. But not you, you come from here, with your aromatic parts and showy females with their red drupe fruits, and you teach me what it means to have a sense of place. Thank you, Spicebush. I can't recall our first meeting, only that in the beginning you looked like every other gray-barked shrub when I wasn't able to tell the forest from the trees. But in time, your character became known to me, in all its unique parts.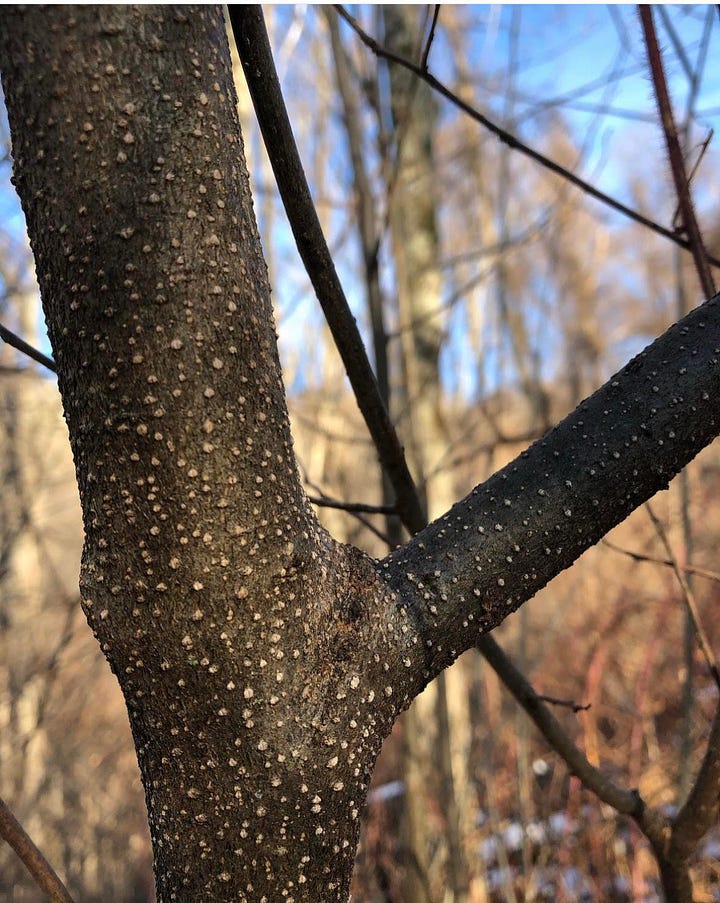 What a distinct oval leaf you have, dark green and shiny on top, more dull and pale underneath. Your smooth bark is sometimes spotted with lenticels. There are other shrubs in the woods who fruit red, but your berries are spread out and more oblong than most. Once your leaves have turned yellow and fallen, your buds for next year's flowers appear. I love this characteristic you have! Holding on to flower buds all winter long, now that's a feat! And then, around spring equinox, you burst into tiny yellow star flowers, turning the understory into a magical place.
But it is your smell that brings it all together for me. Every part of you is pleasingly aromatic and unforgettable. Umhmm, yep, yum, that's you, no one else can I mistake for your scent.  That's where the benzoin part of your latin name comes in.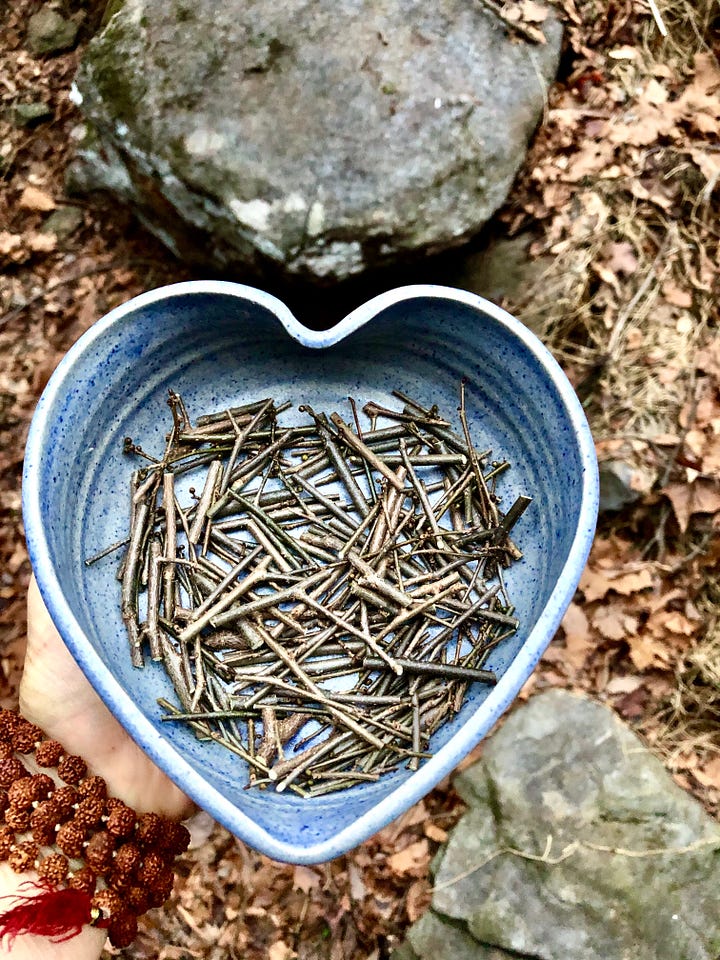 Your twigs make excellent shish kabob skewers. Your berries can spice up all kinds of sweet and savory dishes, and I like to place them as decor on cakes. I chew on any part of you I can while walking in the woods. "Tell me your secrets, Spice, while I eat your body." Does that sound strange? It's what I'm thinking. I also imbibe you as an infusion. 
I forever thought Lindera, your genus name, was derived from Spanish for beautiful, until I learned it was actually after some white botanist guy. I like my version better. When I am leading a plant walk and come upon you, I love telling people who your family is-they get so excited to hear you are cousins with avocado, cinnamon, bay and sassafras!
There is a man named Moose who lives nearby- he's an old-timer as they say, and he comes over to cut a bunch of your branches to take back home to his wife who has stomach ulcers. She swears you are the only thing that helps her. There's lots who testify to your positive sway on the digestive tract. I turn to you for colds or to sweat out a fever, you diaphoretic, you. That part of your medicine that can bust out a sweat can also bring on menstruation if it's delayed. But you are also just good to drink for pleasure- no need to wait and be ailing before appreciating your twig tea.
Like right now. You are simmering on the woodstove as I write to you, and feel thanksgivings for all of your many gifts.
Love,
Mary Plantwalker
---
~Whoever you are, you are welcome here.